Lesson #11 - Where do visitors come from? Links.
In
Lesson #4
we talked about resonance as being one way that visitors use to find their way to your site. Resonance expresses itself in a number of different ways. For example, people might talk about your site while "standing around the water cooler" at work. They might email your site to several friends. If someone likes your site and they have a website of their own, they may also
link
to your site.
Links are a powerful force in the Web world for two important reasons:
You can get direct traffic from a link. This is especially true if the site that links to you has a lot of traffic.


A link is a signal to search engines that you have built a valuable site. A site that has a large number of inbound links is generally considered, by most search engines, to be "more valuable" or "more important" than other sites on the same topic that have fewer links*.
For these two reasons, it is helpful for you to track incoming links. You track them so that you can see whether or not the number is growing, and you track them to see
why
people are linking to you. If you understand why they are linking, you may be able to accentuate that part of your site.
I set up the WebKEW site in a way that would make it particularly easy to track links. First of all, I invented a word ("WebKEW") that was completely unique in Google. Prior to creating this site, the word "WebKEW" brought up zero results in Google. Second, on all pages where I, personally, have linked to WebKEW, I have not used the word WebKEW. (e.g. if you go to
MarshallBrain.com
, you will find that the page does not use the word WebKEW. Instead, it says, "Making money with Web sites" when it links to WebKEW.)
What this means is that you can go to Google, type in the word "WebKEW" and get a very easy read on how many people are linking to this site. Let me give you an example of how this works.
If you had gone to Google on April 15, 2005 and typed in the word "WebKEW" as the search term, Google would have told you that the word did not exist. By April 19, the first link to WebKEW showed up: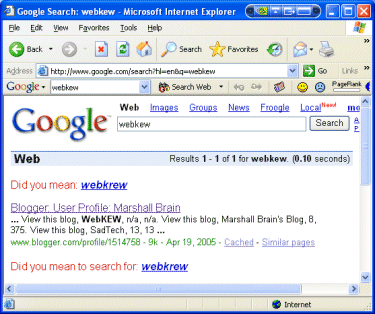 [Click for larger image]

This shows that my profile page on Blogger contained the first link to WebKEW that Google found. Once Google finds one link like this, it is able to start spidering the site, and you are on your way to getting indexed by Google.
Two days later, on April 21, Google had actually indexed the home page of WebKEW: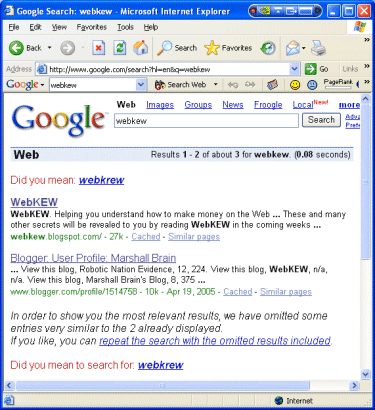 [Click for larger image]

Now here we are exactly two months later, on June 19, 2005. At this point, there are 383 pages in Google that use the word WebKEW: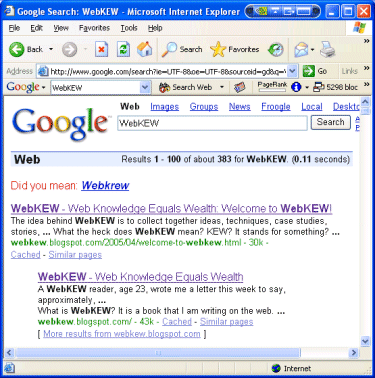 [Click for larger image]

42 of those pages are the actual WebKEW pages themselves. That is a good thing -- it shows that Google has indexed the site. The other 341 pages are all pages on the Web that have used the word WebKEW somewhere in the text of the Web site.
If you create a site, build it to a reasonable size, and three months later there are only one or two inbound links to your site from other sites, then that tells you something. The lack of links is an indicator. In general, what a lack of links means in that the site is not resonating. Either you need to fix the resonance problem, or you will have to drive traffic to the site through some means like advertising. Advertising may be OK is your site is a business brochure site or a retail site, but is probably not OK if you have created a content site.
If you have created a content site and the number of inbound links is low, you may want to:
rethink the way the site is designed

rethink the kinds of things you are talking about in the site

rethink the way you are speaking.
If you have created a content site and no one is linking to it, that generally means that no one is reading your site either.
You can see the process of link resonance at work in this lesson:
Tracking the word Googlezon
. Like "WebKEW", the word "Googlezon" is an invented word. That makes it easy to track. On May 17, 2005, the word Googlezon appeared in Google 17,400 times. Today it appears in Google 21,800 times. That is really good resonance, fueled in part by the fact that the "mainstream media" is reporting on the topic. That kind of coverage, generally, is the gold standard of resonance.
In some cases, links can create a chicken-and-egg problem. If there are no links coming into your site, you will usually have very few readers. If no one reads your site, then obviously they will not link to you. If you feel you are in this kind of negative feedback loop, there are steps you can take to try to break the logjam. Here are five possibilities:
Large sites like Fark and Slashdot actively solicit submissions. Submit your best, most interesting pages to sites like these. Or, find sites like these in subject areas related to your web site.


Another possibility is Digg.com. You can do your own submissions here. Spend at least two weeks playing with this site so that you understand how it works before you submit your site. Try submitting other articles, try digging a number of articles, watch the home page to see what is resonating, etc. Then submit something from your site. If it makes it onto the Digg home page, that tells you something. If people completely ignore your submission, that tells you something else.


Fark and Slashdot also have forums. Submit comments to the forums, and include your site in your signature.


When reading other blogs and web sites that offer comments, submit comments and make sure a link your site is in the signature. You might also link specifically to pages in your site if they are relevant.


In this way, you will build up links to your site, making it easier for search engines to find and spider your site.
Let's say that you try all of these different things over the course of several months. If people are not linking to your site and you have no traffic coming in thru search engines (we will discuss this in Lesson 14), then that is probably your signal to try a new idea. Unless, of course, you are writing strictly for your own enjoyment. In that case, you can write happily for years...
[* - The "quality" of the sites that link to your site also plays a role in the ranking you get in search engines. If you only have one or two inbound links, but they are coming from very large, well-know, popular sites with lots of links themselves, that fact will usually be more important to search engines than 20 links from 20 little sites that no one has ever heard of.]